Meatball the Frenchie LOVES his Alpaca Soaps Doggie Shampoo
Meatball the Frenchie loves to play at the dog park in NYC, which means - this guy needs LOTS of baths!
He smells SO delicious after using the Alpaca Soaps doggie shampoo bar. And after trying out so many different brands of liquid dog shampoos, we can say that having a less-mess dog shampoo bar has been a much more pleasant experience for both us and him!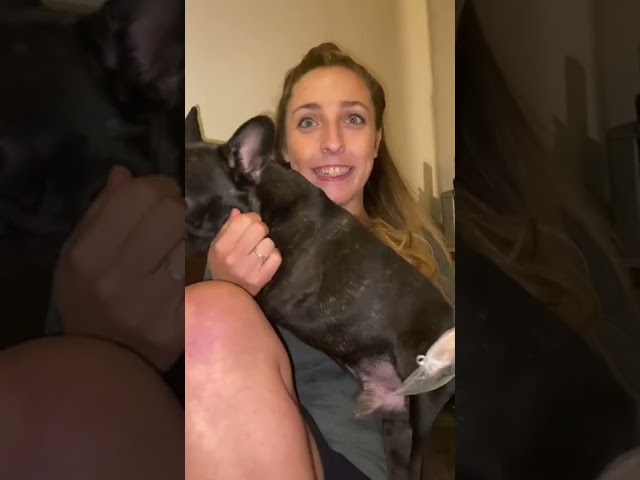 Murphy loves his doggie shampoo bar!
I live on a houseboat in the Florida Keys with my First Mate, Murphy. As you might image space is an issue. So shampooing Murphy with a bar instead of looking for space for another bottle was appealing to me. The shampoo works so well! It has a great lather and fits in my hand perfectly. Murphy feels and smells so clean afterwards. Here's Murphy showing appreciation after his bath. Enjoy!!!
Received as gift and happily purchased more
We love how our pups smell after a bath with Barkley. We received our first bar as a gift, and then we tracked down Alpacasoaps so we could order another. Goodbye, liquid shampoo!
We sure do love hearing this! So glad you found us.xo
Life with Bennett has gotten so much easier!
Using s AlpacaSoaps doggie shampoo bar saves me so much time and headaches. Shampoo bottles are a nightmare with an active pup. The lather is amazing and the bar lasts a very long time. Hooked for life! P.S. See Mom bathing her grandpup.
Its the best for the pup!
This soap lathers up so quick its AMAZING! My dog is 16 lbs of craziness with medium hair. He gets a bath every couple of months and his baths are quick and easy thanks to this cute bar of soap. I have never seen a soap lather so quickly! The little baggy it comes in is perfect as you can keep the soap in it while using it and when done, it dries super quick! One bar of soap is going to last us a good while. Oh and the after smell is perfect!
Dog shampoo
I love these bars! I was wasting so much liquid shampoo trying to build a lather on my little dog. This has made bathing her so much easier, I just wet the bar rub it on her and lather galore. Super easy to hold with the shape, your fingers fit right in the spots on the bar. I love the scents and just so quick and easy to bathe her now. Thank you for thinking of our furry friends hair also.